Simple Balance | Liquid Lawn Food
Highly absorbable and safe 1:1 fertilizer with 50% Slow Release Nitrogen, Phosphorus, and Potassium.  Perfect balance for turf that likes higher levels of potassium and landscaping.
Nitrogen (N)………..14%
Phosphorus (P)…….2%
Potassium (K)………14%
BUY 2 OR MORE AND GET 15% OFF!
BUY 4 OR MORE AND GET 30% OFF!
Description
Chemwise's Simple Balance 14-2-14 is a balanced lawn fertilizer, designed with a 1 to 1 ratio of Nitrogen (N) 14% to Potassium (K) 14%.  Thus, making it more desirable for yards and plants that require higher levels of potassium. For example Zoysia and Centipede, or in yards with lots of landscaping plants. Simple Balance is made with quality ingredients. Such as Urea Triazone and Potassium Acetate.
Urea Triazone:
Urea Triazone is unique form of liquid nitrogen that provides long lasting or slow release characteristics.  This form of nitrogen is slowly broken down inside the plant, therefore reducing the risk of soil leaching.
Urea Triazone, when compared to traditional nitrogen sources, such as ammonium, nitrates, and traditional ureas has a much lower salt index and leaf-burn potential.  This form of Nitrogen is low-volatile, safe, and stable source of slow release nitrogen because of its molecular structure.  This makes Urea Triazone a safer alternative for DIY lawn and garden applications.
Potassium Acetate:
Potassium Acetate is a revolutionary source of potassium. It has superior foliar absorption over traditional forms of potassium. Because of its small molecular size and organic acids, Potassium Acetate is a more desirable choice for foliar fertilization. A study by Texas A&M demonstrated Potassium Acetate to have up to 5X the foliar uptake of traditional forms of potassium. Such as potassium nitrate, potassium thiosulfate, potassium sulfate and potassium chloride.
Manufactured with organic acids. Thus making it an excellent and safe tank mix partner with most lawn and garden inputs including other fertilizer products. Potassium Acetate has a very low salt index, therefore it has a high degree of plant safety.
Application:
Due to the technology, there is no need to water in.  It is recommended that this concentrate be blended with 1-3 gallons of water per 1000 square feet for even coverage.
Typical label rate is 8-12 oz. with sufficient water per 1,000 sq. ft, although you can apply more. It is safe to apply up to 24 oz of this product per 1000 square feet when using proper water to product ratio.  Use a MINIMUM of 15:1 ratio of water to product.  An example of a 15:1 ratio is if you apply at 8oz Simple Maintain per 1000 square feet, you should apply with a minimum 120 oz of water.  This is a total of 128 oz (1 gallon) total spray per 1000 square feet.
Your ratio will also depend on your desired speed for even coverage.  If it takes you 2 gallons of total spray to cover 1000 sq ft and you want to apply 12 oz per 1000 square feet.  Your mixing ratio would be 20:1.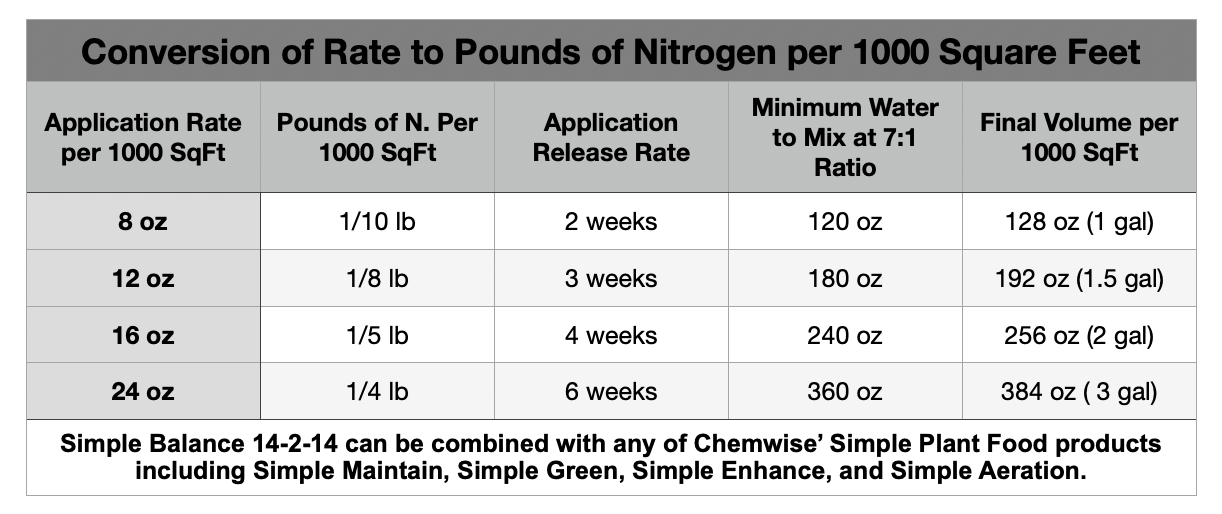 KEEP OUT OF REACH OF CHILDREN
Application Equipment Includes:
manual pump sprayers
battery powered sprayers
push sprayers
hose end applicators
Highlights:
Can be used on all grass types
Perfect for Potassium hungry plants and turf
Concentrated Formula
Balanced fertilizer designed for turf
High level of potassium from Potassium Acetate
Professional quality used by landscapers and golf courses
50% Slow Release Nitrogen
Kid and Pet Friendly when Dry
Made in USA
Family Owned Company
Additional information
| | |
| --- | --- |
| Weight | N/A |
| Dimensions | 0.0 × 0.0 × 0.0 in |
| Size | Quart, Gallon |